1.343795 +0.000700 (+0.05%)
2014-07-28 20:32:50, 0 min delay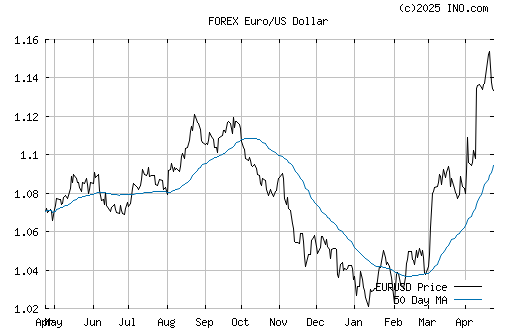 | | |
| --- | --- |
| Last Price | 1.343795 |
| Open | 1.343095 |
| High | 1.344450 |
| Bid | 1.343700 |
| Time | 2014-07-28 20:32:50 |
| | |
| --- | --- |
| Net Change | 0.000700 |
| Previous Close | 1.343095 |
| Low | 1.342695 |
| Ask | 1.343890 |
Trader's Blog
The Truth About Amazon
6 hours ago
Why The Next Stock Market Crash Could Happen Any Day Now
10 hours ago
Sun Tzu and the Art of War for Traders
1 day ago

Today's Financial News
5 hours ago
BOARDMAN, Ore. (AP) — The largest power plant in Oregon, the Boardman Coal Plant, sat idle one day earlier this summer, "cold steel" in industry parlance, its dirty power no longer wanted on an electricity grid that is becoming greener. By 2020, coal will no longer be burned at the 38-year-old power plant, replaced by cleaner-burning natural gas.
5 hours ago
NEW YORK (AP) — The fight for penny pinchers is intensifying. Dollar Tree said Monday it is buying rival discounter Family Dollar for $8.5 billion, significantly broadening its reach as it looks to fend off Wal-Mart, which has been stepping up its courtship of lower-income customers The deal makes Dollar Tree the biggest player in the dollar store segment, with its more than 13,000 combined locations eclipsing current leader Dollar General Corp., which has about 11,300.
5 hours ago
WASHINGTON (AP) — In a victory for airlines and their workers' unions, the House rejected consumers' complaints and passed legislation Monday letting airline advertising emphasize the base price of tickets, before taxes and fees are added. The measure was approved by voice vote, in which individual lawmakers' votes are not recorded. Such votes are used often for non-controversial bills, but they can also allow legislators avoid taking a public position on a touchy issue.
5 hours ago
SAVANNAH RIVER SITE, S.C. (AP) — South Carolina Gov. Nikki Haley and members of her state's congressional delegation say federal lawmakers have secured enough money to ensure a nuclear fuel project at the Savannah River Site goes forward. Construction began on the plant in 2007. It is part of an agreement with Russia to turn nuclear weapons into reactor fuel.