9.343425 +0.007460 (+0.08%)
2015-03-02 11:30:52, 0 min delay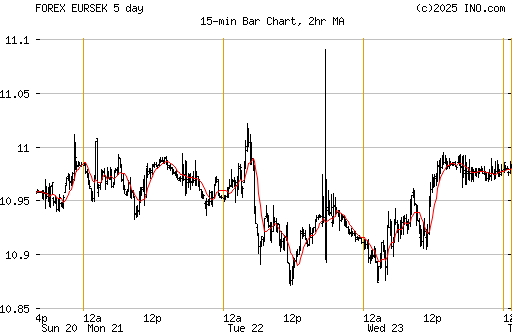 | | |
| --- | --- |
| Last Price | 9.343425 |
| Open | 9.335965 |
| High | 9.370500 |
| Bid | 9.342300 |
| Time | 2015-03-02 11:30:52 |
| | |
| --- | --- |
| Net Change | 0.007460 |
| Previous Close | 9.335965 |
| Low | 9.331100 |
| Ask | 9.344550 |
Trader's Blog
The FX Trend that's Brewing in the Middle East
4 hours ago
Building a Better Trader - Volume 4: Adding the Finishing Touches
1 day ago
Will there be a Marijuana ETF in 2015?
2 days ago

Today's Financial News
3 hours ago
BRUSSELS (AP) — Russia and Ukraine's energy ministers are holding emergency talks in Brussels as Russian gas giant Gazprom threatens to cut off deliveries to Ukraine for lack of payment. The EU imports around 40 percent of its gas from Russia, half via pipelines through conflict-torn Ukraine. Kiev and Moscow have been embroiled in numerous gas price wars and concerns are mounting that any fresh cuts in Ukraine could again hit European Union supplies.
3 hours ago
NEW YORK (AP) _ Sotheby's (BID) on Monday reported fourth-quarter net income of $74 million. On a per-share basis, the New York-based company said it had net income of $1.06. Earnings, adjusted for one-time gains and costs, were $1.12 per share. The results fell short of Wall Street expectations. The average estimate of analysts surveyed by Zacks Investment Research was for earnings of $1.24 per share.
3 hours ago
SAN FRANCISCO (AP) — For its next technological trick, Google will show you what it's like to zip through trees in the Amazon jungle. In its latest foray into the wilderness, Google teamed up with environmental protection group Amazonas Sustainable Foundation, or FAS, to explore a remote part of an Amazon rainforest. Google Inc. lent FAS its Trekker device, a camera mounted on an apparatus originally designed to be carried like a backpack by hikers walking on trails.
3 hours ago
OMAHA, Neb. (AP) — Billionaire Warren Buffett says the U.S. economy continues to improve steadily, and he doesn't think investors should be disappointed with 2 percent growth each year. He says the growth is clear in reports he sees from Berkshire's more than 80 businesses, including BNSF railroad, See's Candy and the Berkshire Hathaway Home Services real estate brokerage.