1.6091 0.0000 (0.00%)
2014-10-25 11:41:28, 0 min delay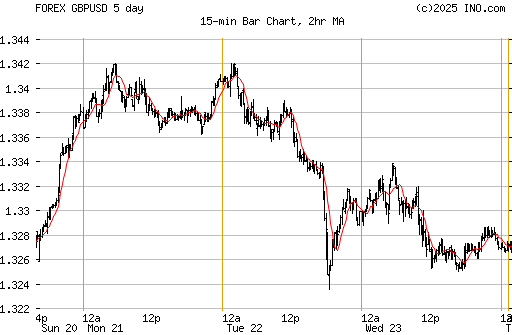 | | |
| --- | --- |
| Last Price | 1.6091 |
| Previous Close | 1.6091 |
| Low | 1.6091 |
| Ask | 1.6094 |
| | |
| --- | --- |
| Open | 1.6091 |
| High | 1.6091 |
| Bid | 1.6088 |
| Time | 2014-10-25 11:41:28 |
Trader's Blog
Don't Get Ruined by These 10 Popular Investment Myths (Part V)
3 hours ago
Weekly Futures Recap With Mike Seery
18 hours ago
Amazon's Greatest Nightmare
23 hours ago

Today's Financial News
19 hours ago
NEW YORK (AP) — Amazon has long acted like an ideal customer on its own website: a freewheeling big spender with no worries about balancing a checkbook. Investors confident in founder and CEO Jeff Bezos' invest-and-expand strategy flooded into the stock as the company revolutionized shopping, upended the book industry and took on the cloud — even though its vast range of initiatives ate up all the company's profits.
19 hours ago
CONCORD, N.H. (AP) — Anthem Blue Cross and Blue Shield of New Hampshire said Friday that on average, its customers who have purchased insurance plans under the federal health care overhaul law will see no increases in premiums next year. Anthem said its overall rates will remain flat, but some policyholders could see changes depending on their individual plans, their ages and whether they smoke.
19 hours ago
NEW YORK (AP) — The stock market closed out its best week in nearly two years on a positive note Friday, helped by strong quarterly earnings from Microsoft and other big U.S. companies. After weeks of speculation over the fate of Europe's economy, Ebola fears and plunging oil prices, investors were able to get back to basics. Wall Street is in the midst of one of the busiest times of the year, when companies report their quarterly results. Ultimately what drives stock prices higher is the potential for that company to earn more profits, so higher profits generally mean higher stock prices.
19 hours ago
The interest rate pendulum has swung in favor of homeowners again. That's good news for homeowners who are locked in at a higher interest rate and weren't able to refinance before rates began ticking up last year. The decline in mortgage rates has spurred a surge in mortgage refinancing. Applications reached their highest level since November 2013 last week, according to the Mortgage Bankers Association.