1176.550 -1.275 (-0.11%)
2015-06-30 01:15:39, 0 min delay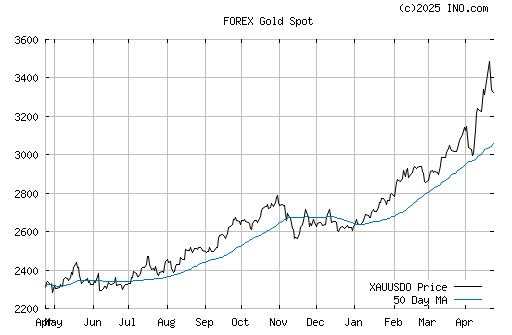 | | |
| --- | --- |
| Last Price | 1176.550 |
| Previous Close | 1177.825 |
| Low | 1176.040 |
| Ask | 1176.700 |
| | |
| --- | --- |
| Open | 1177.825 |
| High | 1178.050 |
| Bid | 1176.400 |
| Time | 2015-06-30 01:15:39 |
Trader's Blog
Their Greece, And Now Ours
8 hours ago
Platinum Demand Hit Decade High Amid Falling Price
10 hours ago
Greece Is Not A Black Swan Event
12 hours ago

Today's Financial News
9 hours ago
WASHINGTON (AP) — In a rare bipartisan scene at the White House, President Barack Obama on Monday signed into law two hard-fought bills giving him greater authority to negotiate international trade deals and providing aid to workers whose jobs are displaced by such pacts. "I thought I'd start off the week with something we should do more often, a truly bipartisan bill signing," Obama said in a crowded East Room ceremony. Five Democratic and two Republican members of Congress watched over as Obama affixed his name to the two bills.
10 hours ago
FRANKFURT, Germany (AP) — Greece has entered the twilight zone. Out of money, cut off by its creditors, its banks shut, the struggling country will vote Sunday on whether to accept painful cutbacks in return for desperately needed financing. Between now and then Greece remains suspended between collapse and an uncertain rescue, between membership in the 19-member euro club and the possibility of a humiliating exit.
10 hours ago
BISMARCK, N.D. (AP) — More than a dozen states are challenging a new rule that gives federal authorities jurisdiction over some state waters. Federal officials say the new rule aims to clarify which wetlands, streams and other waterways are protected under the Clean Water Act. Stenehjem says a lawsuit seeking to have the rule thrown out was filed Monday in federal court in North Dakota.
10 hours ago
PITTSBURGH (AP) — An American Airlines operations manager involved in the response to the 9/11 hijackings has been arrested near Pittsburgh on charges he arranged sex with a woman and a 10-year-old girl and sent sexually explicit messages. He was charged Friday with criminal attempt to commit rape of a child and other offenses.