0.903385 +0.008710 (+0.97%)
2015-03-04 15:14:10, 0 min delay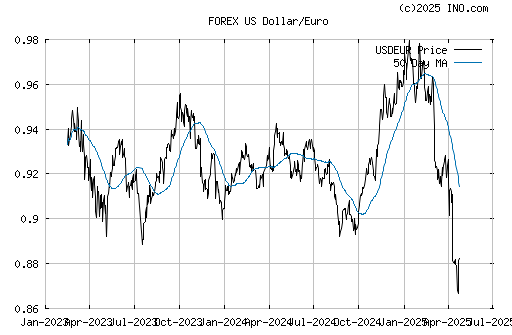 | | |
| --- | --- |
| Last Price | 0.903385 |
| Open | 0.894675 |
| High | 0.903825 |
| Bid | 0.903260 |
| Time | 2015-03-04 15:14:10 |
| | |
| --- | --- |
| Net Change | 0.008710 |
| Previous Close | 0.894675 |
| Low | 0.894650 |
| Ask | 0.903510 |
Trader's Blog
Are We In A Boom Or A Bust?
8 hours ago
Are You Prepared For Negative Interest Rates?
1 day ago
The Next Financial Crisis(es)
1 day ago

Today's Financial News
2 hours, 23 minutes ago
NICOSIA, Cyprus (AP) — Several thousand demonstrators in Cyprus are calling for an end to government austerity policies they say have driven many in the bailed-out country to poverty. Some 18 groups organized the event, including left-wing trade unions, teacher and family groups, as well as student organizations.
2 hours, 33 minutes ago
WASHINGTON (AP) — With an eye toward a possible run for the White House, Republican Sen. Marco Rubio is signing onto an ambitious plan to cut taxes for investors, parents and businesses in an effort to spur economic growth and create jobs. The Florida senator joined with Republican Sen. Mike Lee of Utah to unveil the package Wednesday.
2 hours, 53 minutes ago
WASHINGTON (AP) — The Supreme Court was sharply divided Wednesday in the latest challenge to President Barack Obama's health overhaul, this time over the tax subsidies that make insurance affordable for millions of Americans. Chief Justice John Roberts said almost nothing in nearly 90 minutes of back-and-forth, and Justice Anthony Kennedy's questions did not make clear how he will come out. Roberts was the decisive vote to uphold the law in 2012.
2 hours, 57 minutes ago
WASHINGTON (AP) — The Republican-controlled Senate has voted 53-46 to kill a National Labor Relations Board rule reducing the time between a union's request for representation and a workers' vote on it. The legislation now goes to the House, where approval is also assured. President Barack Obama has threatened to veto the measure, and the Senate's vote indicates that supporters are far from the two-thirds majority that would be needed to override him.