1.07985 -0.00143 (-0.13%)
2014-07-28 18:28:07, 0 min delay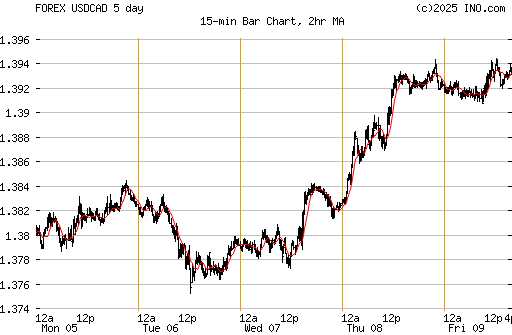 | | |
| --- | --- |
| Last Price | 1.07985 |
| Previous Close | 1.08128 |
| Low | 1.07975 |
| Ask | 1.08010 |
| | |
| --- | --- |
| Open | 1.08128 |
| High | 1.08190 |
| Bid | 1.07960 |
| Time | 2014-07-28 18:28:07 |
Trader's Blog
The Truth About Amazon
4 hours ago
Why The Next Stock Market Crash Could Happen Any Day Now
8 hours ago
Sun Tzu and the Art of War for Traders
1 day ago

Today's Financial News
3 hours ago
WASHINGTON (AP) — In a victory for airlines and their workers' unions, the House rejected consumers' complaints and passed legislation Monday letting airline advertising emphasize the base price of tickets, before taxes and fees are added. The measure was approved by voice vote, in which individual lawmakers' votes are not recorded. Such votes are used often for non-controversial bills, but they can also allow legislators avoid taking a public position on a touchy issue.
3 hours ago
WASHINGTON (AP) — The Federal Aviation Administration said Monday it is proposing a $12 million civil fine against Southwest Airlines for failing to comply with safety regulations related to repairs on Boeing 737 jetliners. Southwest then returned the planes to service in 2009 and began flying them even after the FAA "put the airline on notice that these aircraft were not in compliance" with safety regulations, the agency said.
3 hours ago
SAVANNAH RIVER SITE, S.C. (AP) — Federal legislators have secured enough money to make sure a nuclear fuel project at the Savannah River Site goes forward, according to South Carolina Gov. Nikki Haley and members of the state's congressional delegation. Last fall, Haley invited Moniz to visit the Savannah River Site, a sprawling complex along the South Carolina-Georgia border. The 310-square mile site once produced components for nuclear weapons, but its primary focus now is on repurposing and cleanup.
3 hours ago
FLAGSTAFF, Ariz. (AP) — The largest coal-fired power plant in the West will produce one-third less energy by 2020 and is on track to cease operations in 2044 under a proposal that the federal government adopted to cut haze-causing emissions of nitrogen oxide at places like the Grand Canyon. EPA regional administrator Jared Blumenfeld in San Francisco said a final decision didn't come easily and required flexibility. Along with meeting energy demands in the West, the 2,250-megawatt plant powers a series of canals that deliver water to Phoenix and Tucson, fuels the economies of the Navajo and Hopi Tribes, and helps fulfill American Indian water-rights settlements with the federal government.