1.508200 -0.005215 (-0.34%)
2015-11-24 19:11:21, 0 min delay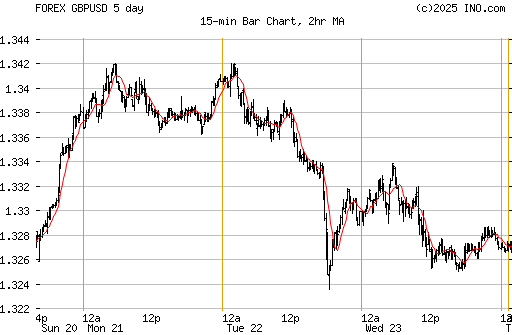 | | |
| --- | --- |
| Last Price | 1.508200 |
| Previous Close | 1.513415 |
| Low | 1.505350 |
| Ask | 1.508600 |
| | |
| --- | --- |
| Open | 1.513415 |
| High | 1.515600 |
| Bid | 1.507800 |
| Time | 2015-11-24 19:11:21 |
Trader's Blog
What To Do In Any Market Scenario
2 hours, 11 minutes ago
UPDATE: 12 Stocks Making New 52-Week Highs
7 hours ago
Aussie Dollar: Short to Long View
11 hours ago

Today's Financial News
10 hours ago
BERLIN (AP) — A new 20 euro bill is going into circulation, which the European Central Bank boasts will include enhanced security features to better protect against counterfeiting. The 5 and 10 euro notes are already in circulation and the higher-denomination bills will gradually follow. The new bills are similar in color to their predecessors but have security features that can be checked with the "feel, look and tilt" method. These include a special paper with raised print, a portrait window and security thread, a silver stripe that reveals a portrait of Europa, and an emerald number that reflects light.
10 hours ago
NEW YORK (AP) — A nonprofit founded to combat obesity says the $1.5 million it received from Coke has no influence on its work. In an email last November, the group's president tells a top Coke executive: "I want to help your company avoid the image of being a problem in peoples' lives and back to being a company that brings important and fun things to them."
10 hours ago
LISBON, Portugal (AP) — An anti-austerity alliance led by the moderate Socialist Party and including the Communist Party and radical left Bloc is taking power in Portugal after the eurozone country's president on Tuesday set aside fears about those parties' economic and foreign policies. Costa's Socialists headed an alliance of leftist lawmakers that two weeks ago unseated a center-right government that had been in power for just 11 days following the Oct. 4 general election. That government had over the previous four years introduced spending cuts and economic reforms following Portugal's 78 billion-euro ($83 billion) bailout in 2011.
10 hours ago
HAMILTON, Bermuda (AP) _ Ship Finance International Ltd. (SFL) on Tuesday reported third-quarter net income of $45.5 million. The Hamilton, Bermuda-based company said it had net income of 49 cents per share. Earnings, adjusted for non-recurring costs, came to 65 cents per share. The results surpassed Wall Street expectations. The average estimate of three analysts surveyed by Zacks Investment Research was for earnings of 60 cents per share.