16.685730 -0.018220 (-0.11%)
2015-05-26 11:41:11, 0 min delay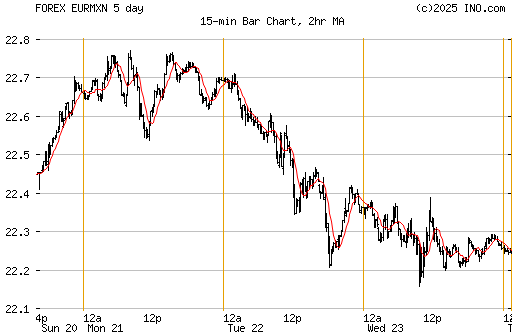 | | |
| --- | --- |
| Last Price | 16.685730 |
| Previous Close | 16.703950 |
| Low | 16.606300 |
| Ask | 16.687950 |
| | |
| --- | --- |
| Open | 16.703950 |
| High | 16.728085 |
| Bid | 16.683510 |
| Time | 2015-05-26 11:41:11 |
Trader's Blog
Buy Gold For Euros, Sell Copper For Dollars
1 hour, 33 minutes ago
Happy Memorial Day!
1 day ago
Mastering High-Risk Decision Making
2 days ago

Today's Financial News
11 hours ago
Charter Communications Inc. is said to be nearing a deal to buy Time Warner Cable Inc. for $55 billion. It would be the latest in a series of deals that have reshaped the cable-TV industry. Q: WHAT IS DRIVING THE DEALS IN THE CABLE INDUSTRY? A: Cable companies are bulking up to survive as the number of cable and satellite TV subscribers slips — more consumers are "cutting the cord" — and competition from streaming video rises, thanks to rivals such as Netflix Inc. They also must fight TV channels over the cost of programming.
13 hours ago
SEOUL, South Korea (AP) — Two key Samsung companies are merging in a step toward giving the son of the group's ailing chairman control of the theme parks to smartphones conglomerate. Analysts say the move will give Samsung heir Lee Jae-yong greater control over the conglomerate including its crown jewel Samsung Electronics Co.
13 hours ago
CARSON CITY, Nev. (AP) — The Las Vegas Metro Chamber of Commerce, a major business group that has remained neutral on tax bills for most of the legislative session, said Monday that it would offer conditional and temporary support of Republican Gov. Brian Sandoval's revised tax proposal. Chamber President Kristin McMillan said her group opposed the policy behind a portion of Sandoval's plan, but "in the spirit of compromise, the chamber is here today to say that we can live with a less-than-optimal solution so long as there is an identifiable path to better tax policy."
14 hours ago
SYDNEY (AP) — California has turned to the world's driest inhabited continent for solutions to its longest and sharpest drought on record. Australia also faced tough water restrictions — along with dying cattle, barren fields and monstrous wildfires that killed 173 people. But when the rains finally returned, Australians had fundamentally changed how they handle this precious resource. They treat water as a commodity to be conserved and traded, and carefully measure what's available and how it's being used. Efficiency programs cut their average daily use to 55 gallons, compared with 105 gallons per day for each Californian.